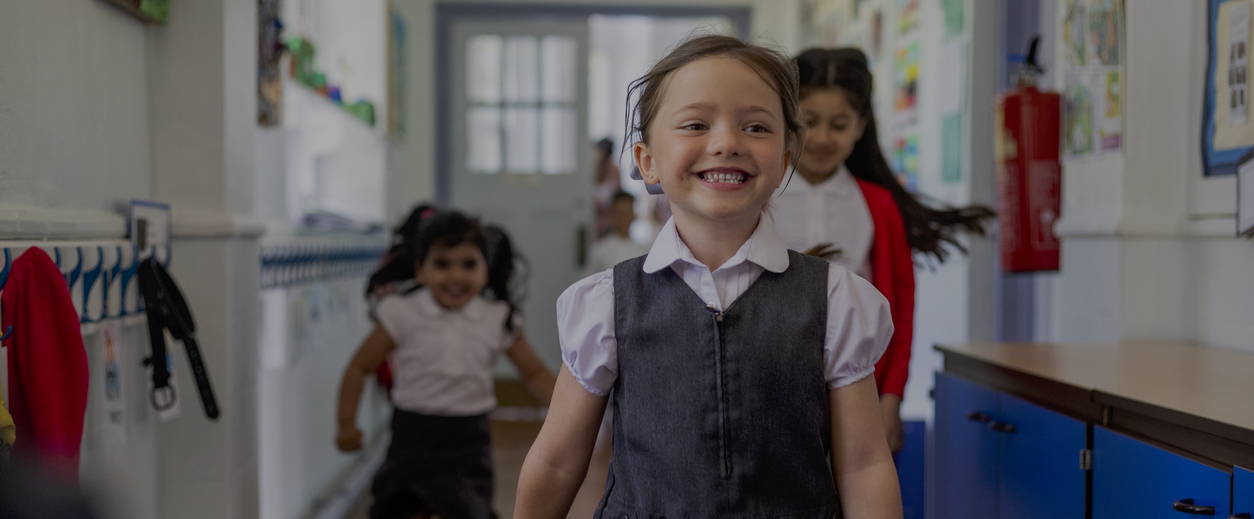 Our Vision and Principles
Welcome to PlanBee, where our mission is to support schools, teachers and children with our high-quality primary lesson packs
For children, our goal is to create relevant and engaging learning experiences that cultivate children's curiosity and build their confidence.

 

For teachers, we aim to provide well-researched, carefully prepared schemes of work that energise educators and are enjoyable to teach.

For schools, we hope to spark genuine enthusiasm among staff and children, contributing to a positive learning environment which promotes excellent progress and achievement.
---
Six core principles guide our work. We believe the curricula and resources we offer should be: enjoyable, equitable, coherent, cohort-relevant, creative and flexible.
Enjoyable
Enjoyable learning experiences are at the heart of what we do. Through enjoyment, we seek to motivate and engage children so they become confident and curious learners.
Equitable
Every child has a right to an ambitious, inclusive education whatever their background or needs.
We support equitable provision which represents all learners and works to narrow the attainment gap. 
Coherent
A coherent curriculum, which builds on prior learning, is essential for children to acquire and retain increasingly complex knowledge and skills.
Cohort-relevant
We explore relevant themes like social justice and climate change to prepare children for their future. Our resources also support children to secure social and emotional tools alongside subject specific skills.
Creative
We believe that creative and exploratory experiences, which encourage self-expression, creative thinking and innovation, are critical for unlocking children's full potential.
Flexible
We recognise that each school is unique.

So, it's important that schools and teachers have the flexibility to create curricula which work for them.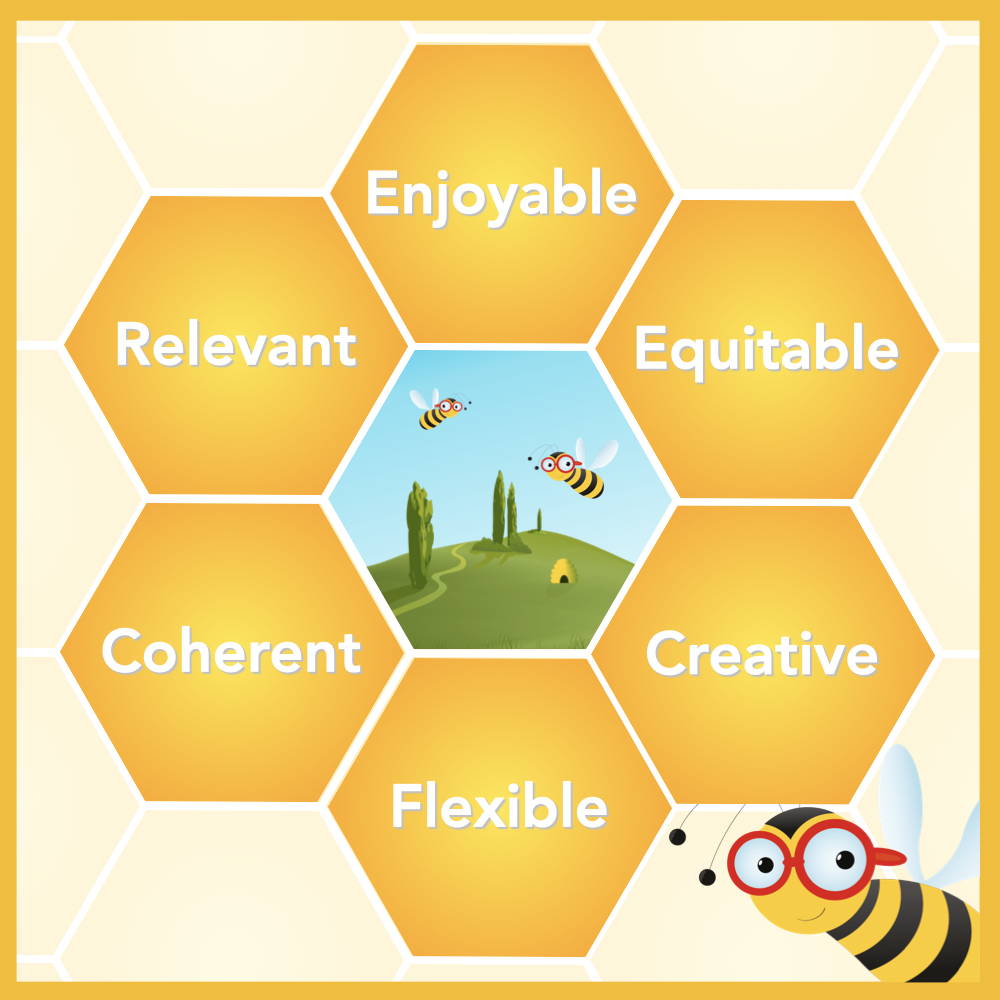 ---
1) Enjoyable
Principally, we believe that learning should be enjoyable. That's why our resources are designed to ignite children's curiosity and cultivate their love of learning.

Research consistently shows that when children enjoy their learning, they are more motivated, engaged and make better academic progress. Moreover, enjoyable learning experiences can improve children's overall wellbeing which makes for secure and confident learners.
"The overview and plans for my chosen subjects are so rich, well laid out and it made delivery very engaging, fun and diverse. Thumbs up PlanBee"
- Kemi Mukan
2) Equitable
We recognise that every learner has different needs and that accessible learning - scaffolded where necessary and sufficiently challenging and ambitious - is essential to drive the aspirations and progress of all learners. Our resources include rich opportunities for children to develop their vocabulary and oracy skills, which are crucial in helping to narrow the disadvantage gap.
By offering diverse representation and multiple perspectives, our resources support children to build positive self-esteem, to widen their experiences and develop inclusive values.
"The resources are so helpful! The differentiation is very creative and provides room to alter the tasks according to your own children. I was able to use the resources to tailor to my SEN kids and challenge the higher ability!"
- Bal
3) Creative
We believe that creative and exploratory learning opportunities are crucial for unlocking children's imagination and enabling them to express themselves, explore different possibilities, experiment and innovate. Our approach promotes cross-curricular learning and child-led exploration and discovery, which research has shown to enhance children's motivation, engagement, and academic attainment.
By engaging in creative thinking, learners develop valuable life skills such as communication, collaboration, and adaptability, while improving their retention and recall of information. Moreover, it enables them to make connections, deepen their understanding and make sense of new information.
"I am normally a person who enjoys a creative approach to planning and delivering the curriculum so I've always reinvented the wheel. However, I found the plans leant themselves to a creative approach with additional drama activities which you could use in delivering the lessons if that's what you enjoy. Altogether I was so impressed that I bought the plans for all my topics this year! "
- Cath T
4) Cohort-relevant
We believe it is essential to engage children in topics that are meaningful and relevant to their lives, such as social justice, developing technologies and climate change. By exploring these themes, children can better understand that place in the wider world, which is crucial in today's complex and rapidly changing climate.
Our resources are also designed to help children gain the social, emotional and metacognitive skills they need to succeed as secure and reflective citizens, both inside and outside of the classroom.
"Brilliant for teaching KS2 about climate change and sustainability."
- Teacher
5) Flexible
Our resources offer schools, teachers and children flexibility and choice.
We have a wide range of inspiring cross-curricular topics and hundreds of varied schemes of work to choose from.
Each lesson comes with a range of resources that can be used to support the main activity and an alternative 'Fancy Something Different' option. This allows teachers to choose the learning experience that will best motivate, challenge or support their children to make excellent progress.
As our resources come ready-to-teach, they can be easily adapted to suit the school's local context and chosen teaching sequence as well as the children's specific needs.
"I love the level of thought and detail that has gone into all the plans and resources. They really do take the time and effort out of things, meaning that you can focus on honing things to exactly suit your needs, picking which parts you will and won't use and which resources are best for the children you have or adapting to make a better fit. All of this then means you have more energy and motivation to actually deliver, teach and motivate your children."
- C&R
6) Coherent
Both our cross-curricular topics and subject-specific schemes of work purposefully interweave vocabulary, concepts, knowledge and skills to ensure that all children access and progress their learning effectively.
Our resources are clearly and logically sequenced, providing a clear pathway for children to build on prior learning and acquire increasingly complex knowledge and skills that they retain. This is essential for unlocking children's creative and critical thinking skills, which enable them to make meaningful connections, deepen their understanding and truly appreciate the significance of what they are learning.
"The planning is well thought out, clear and exciting. I used the art planning and found it easy to follow with explicit learning objectives and progression."
- Diane Taylor
---